Events, weddings and camps
Want a wine or tea camp?
Plan a wine camp with us this summer!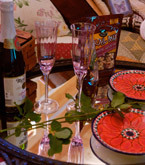 Special Sunday through Thursday boot camp with our area wineries. Taste, visit, plant, prune, and learn soil testing and vineyard design. Visiting growers share their secrets. All meals for Monday through Thursday and instruction at least 2 hours per day. $799 per person, double occupancy, $999 single occupancy. Camps run 3rd week in July and 3rd week in August. If you have your own group of at least 6, we can schedule a private camp. The Smokies has a great variety of wines and wineries winning national awards.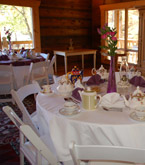 Tea camp!
Learn about all the types of tea, tea blends, brewing and selecting for health and flavor. Create your favorite blend and offer it to your friends and family this Christmas, a delightful gift you have created. Of course, tea boot camp includes some culinary delights as well. Learn the art of afternoon tea, menu and manners. Great girlfriends getaway or for couples who want to learn the healthy art of relaxing over a different kind of brew. All meals Monday through Thursday, afternoon tea each day, 4 nights, $650 per person, double occupancy. $850, single occupancy. Camps run 2nd week in July and 2nd week in September, Sunday arrival, Thursday morning departure.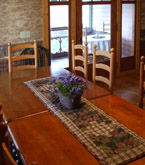 Business at Evergreen...
Yes, in town and convenient, 3 break out rooms, ideal for 20.
Events at Evergreen:
Weddings in the garden, or standing room only at the inn followed with a stand up reception ( if the weather is unruly! )...
Or reserve a garden tent and come what may, you'll be dry...
Lanternlight and torchlight dining, old world...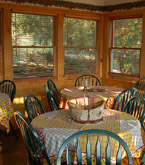 Family reunions at Evergreen:
A central headquarters for your guests to play, tell stories, make memories. Cottages and cabins nearby. We'll plan your activities...
Two nights in town, 2 nights in the mountains...
Gentle return to nature, romantic rooms at Evergreen and then a celebration at a personal mountain retreat just for two... 4 nights, 2 breakfasts, $750 for two. This may not be combined with any other special.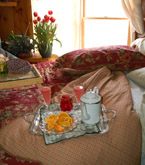 Honeymoon specials:
Roses, chocolates, 5 nights, breakfast each morning, 2 dinners for two, one picnic lunch, 2 tickets to Dollywood, choice of couple's massage or Comedy Barn tickets: total package, $1199 plus tax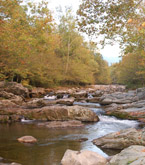 Anniversary special:
Roses, chocolates, 2 nights, choice of music show or Dixie Stampede tickets or couple's massage, map and deluxe picnic to share in the Smokies, $799 plus tax...